Usted está en:
2. General information on the Strait of Magellan
---
a) Location and jurisdiction 
The Strait of Magellan is a passage located in the southernmost area of South America, among the Chilean Patagonia, Isla Grande de Tierra del Fuego and a large number of islands to the west and towards the Pacific Ocean. 
It is the most important natural passage between the Pacific and Atlantic Oceans. The Strait is entirely within Chilean jurisdiction, it is part of the Magellan and Chilean Antarctica Region. 
The Chilean-Argentine treaties of 1881 and 1984 ensure its navigation to vessels of all flags at all times and under all circumstances. 
 b) Length of the Strait of Magellan 
The Strait of Magellan, from the eastern entry/exit (Punta Dungeness) to the western entry/exit (Islotes Evangelistas) has a total length of 330 nautical miles.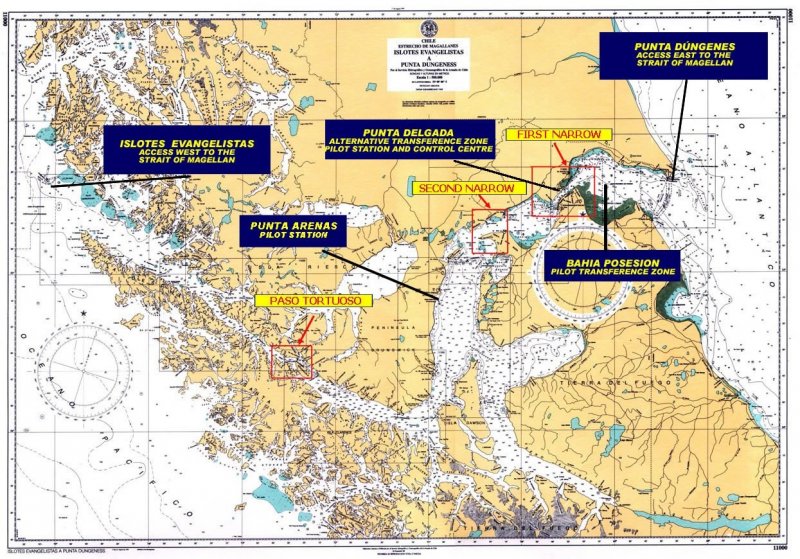 c) General instructions to navigate the Strait of Magellan 
During the voyage through the Strait of Magellan, the International Regulations for Preventing Collisions must be strictly complied with, especially regarding the sound signals established therein.
Permanently stand by on international VHF safety frequencies, channel 16 and channel 70.
Inform the Maritime Traffic Control Stations at Faro Islotes Evangelistas, Bahía Félix, Paso Tortuoso, Punta Arenas, Punta Delgada and Punta Dungeness, the entry or exit of the Strait of Magellan, when passing through them.
Inform the geographical location of the vessel to the National Maritime Authority, according to CHILREP procedure, at 08:00 and 20:00 local time. Vessels navigating without a Channel Pilot between the western entry/exit of the Strait of Magellan and Punta Arenas must do so every 4 hours (see A. - PROVISIONS, REGULATIONS AND GENERAL INFORMATION ON PILOTAGE IN CHILE; 9. - Operational information for Masters; letter g).
The Maritime Authority will inform when vessels with a length over 200 meters transit the Strait of Magellan, in order to grant them right of way in their navigation.
d) Areas of interest in the Strait of Magellan 
From a navigational point of view, this Strait has basically three areas of interest, the details of which will be given later. These are the First Narrows, the Second Narrows and Paso Tortuoso.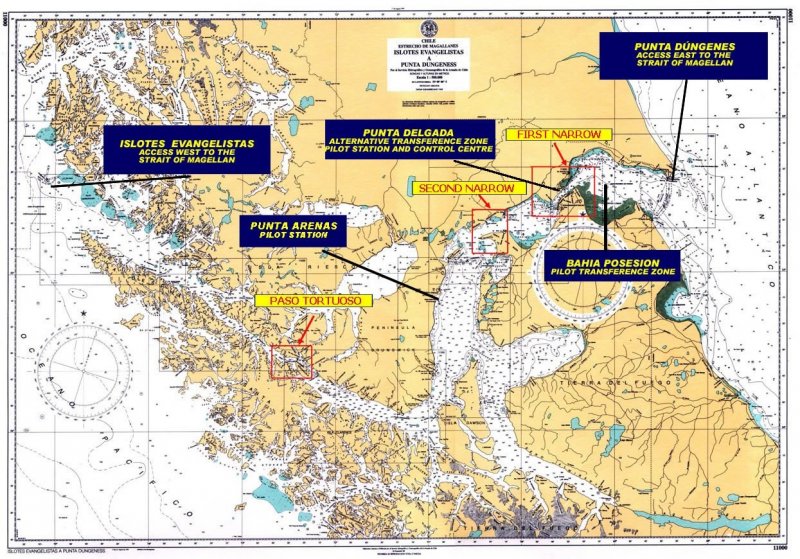 e) Depths and distances in the Strait of Magellan 
In general, the Strait of Magellan is deep and wide, the shallowest depth on the navigation track is 28 meters in the vicinity of Isla Magdalena and the greatest depth is 1080 meters abeam Faro Cooper Key. In terms of distances, the shortest distance to shore is 5 cables abeam Faro Crosstide, in Paso Tortuoso, and the longest is 9 nautical miles through Puerto Porvenir. The maximum permissible draught to navigate the Strait is 70 feet, or 21.3 meters.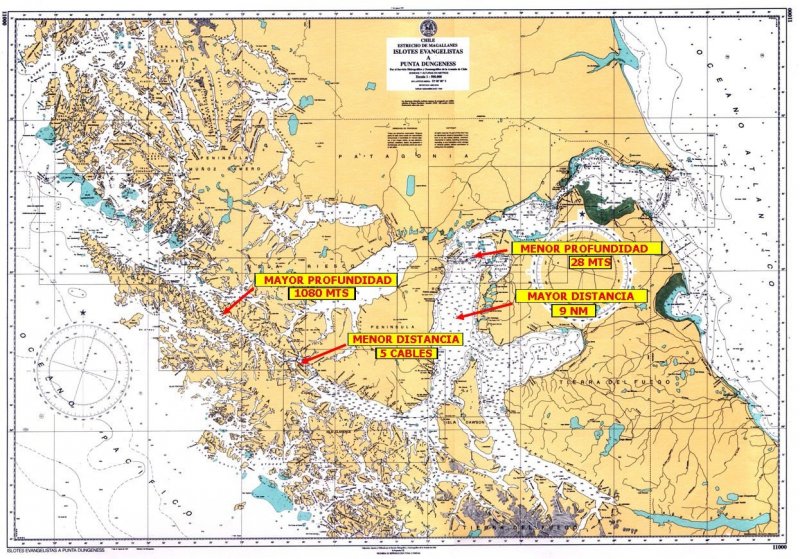 f) Aids to navigation 
They are of excellent quality and sufficient to navigate safely at all times, in all its extension. Shoals, no less than 4 cables from the track, are well marked. There are a total of 30 lighthouses and 12 buoys along the entire navigation track, from Punta Dungeness to Islotes Evangelistas. Five of the lighthouses are inhabited by naval personnel and perform maritime traffic control functions (Islotes Evangelistas, Bahía Felix, Islote Fairway, Paso Tortuoso, Punta Delgada and Punta Dungeness).
g) Currents in the Strait of Magellan 
Currents in the Strait of Magellan clearly show their effects on the two Narrows and in the Paso Inglés. In the First Narrows, it is where currents have greater intensity throughout the Strait, ranging from 2 knots in periods of low intensity and up to 8 knots in syzygies, both in the flow and ebb current.
h)Tidal amplitude 
Tidal amplitudes reach their maximum in the First Narrows, Punta Delgada, since in syzygies there can be up to 8 meters of difference between high and low tide.
i) Hours of light and darkness
In summer (December), there are up to 20 hours of daylight, decreasing in winter (June) to about 6 hours.
j) Presence of ice or icebergs 
No presence of ice or iceberg in the Strait, its waters never freeze. This parameter does not affect navigation in any way.
k) Navigation speed through the Strait of Magellan 
No speed restrictions in the Strait, which allows navigation at maximum speed throughout all its extension.
l) Anchorages in the Strait of Magellan 
In the Strait of Magellan, there are adequate anchorages for all types of vessels. Below, there are details of some of the most appropriate places for anchoring, according to their length.
POSITION

VESSEL LENGHT

LATITUDE (S)

LONGITUDE (W)

CHART

(+) 150 M

(-) 150 M

(-) 100 M

PASO TORTUOSO

1. BAHÍA BORJA

53° 31.83'

072° 29.76'

11311

YES

YES

YES

PASO INGLÉS

2. BAHÍA FORTESCUE

53° 42'

072° 00'

11312

YES

YES

YES

3. BAHÍA CORDES

53° 43.48'

071° 55.71'

11312

YES

YES

YES

4. BAHÍA WOOD

53° 49.1'

071° 38.1'

11432

YES

YES

YES

PASO DEL HAMBRE

5. BAHÍA SAN NICOLÁS

53° 50.4'

071° 06.76'

11431

YES

YES

YES

6. PUERTO SAN JUAN DE LA POSESIÓN

53° 38.21'

070° 55.61'

11431

YES

YES

YES

PUNTA ARENAS

7. PUNTA ARENAS

53° 10'

070° 53'

11410

YES

YES

YES

SECOND NARROW

8. BAHÍA FELIPE

52° 44.34'

070° 05.89'

11500

YES

YES

YES
Emergency anchorages are non-existent for large-size vessels in the western area of Paso Tortuoso, although anchoring is possible in the vicinity of Bajo Magallanes if extremely necessary, - near Faro Félix. There are better anchorages in the eastern area, such as Pilot Waiting Area in Bahía Posesión, bays Gregorio and Felipe between the First and Second Narrows, Rada de Punta Arenas, and Bahía Fortescue before entering Paso Inglés.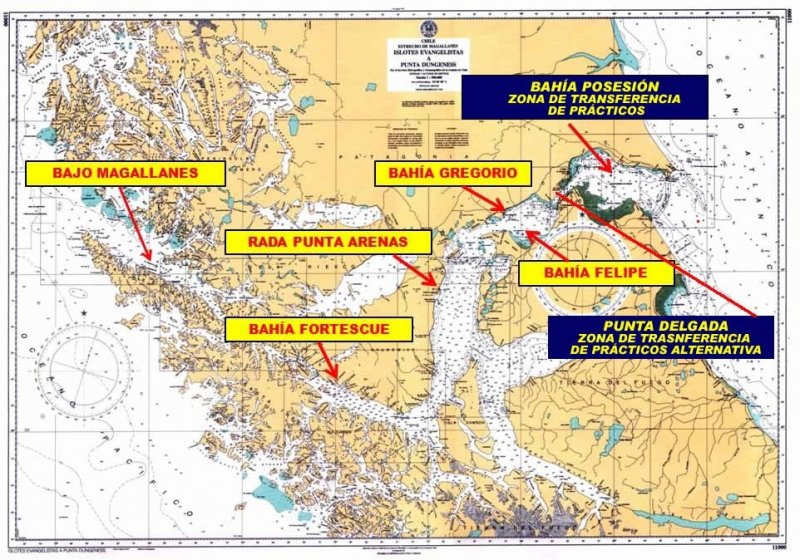 m) Pilot Transfer Zone 
Located in Bahía Posesión (Lat. 52°22.75 S, Long. 068°58.63 W) in the vicinity of the platforms line, 19 nautical miles from Faro Punta Delgada Pilot Station and 22 nautical miles from Faro Punta Dungeness. In case of bad weather that makes it difficult to embark pilots at the Transfer Zone, there is a waiting area where vessels can anchor at 30 meters' deep. As an alternative, vessels can keep navigating alone to or from Punta Delgada (Lat. 52°28.17 S, Long. 069°31.43 W), with the pilot assistance from the Pilot Station control room, where there is a state-of-the-art radar with S-57 chart management, AIS and ARPA display. It has all the capabilities of a basic VTS.
n) Security Messages during transit 
When large-size vessels with a length over 200 meters enter the Strait of Magellan, the National Maritime Authority sends a Security message, broadcasted on VHF Channel 16 across all the inhabited lighthouses. This message is repeated while the vessel navigates through the Strait of Magellan, stipulating right of way.
o) Tug boats
Eight High Seas tug boats operate from Punta Arenas. Their bollard pull is about 65 tons, with engine power from 2000 HP to 5000 HP. They can quickly assist vessels requiring their service.